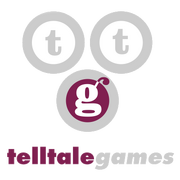 Telltale Games is an independent digital first publisher and game developer founded in June 2004 as Telltale, Incorporated. Based in San Rafael, California, the studio includes designers formerly employed by LucasArts. Its business model revolves around episodic gaming and digital distribution, and it is best known for its various graphic adventure game series based on popular licensed properties.
Many of the games that have been developed by Telltale Games follow an episodic system; the full game is split into several episodes which are released periodically through a certain timeframe, often up to a year after the initial release. Popular titles by Telltale include game adaptations of the CSI television show, well-known comics such as Wallace and Gromit and the currently ongoing The Walking Dead.
Ad blocker interference detected!
Wikia is a free-to-use site that makes money from advertising. We have a modified experience for viewers using ad blockers

Wikia is not accessible if you've made further modifications. Remove the custom ad blocker rule(s) and the page will load as expected.