SHADOWGUN

The App Store icon for ShadowGun.

Developer(s)

Publisher(s)
SHADOWGUN is a Third Person Shooter for iOS. It was released on 27th September 2011 for iPod Touch, iPhone and iPad. It uses the Unity 3D Engine, displaying some of the most console-like graphics on iOS, after Infinity Blade. Because of the console graphics, it has recieved nearly all 5-Star Ratings from players.
On September 28th 2011, Madfinger Games announced that ShadowGun would be released on the Android market.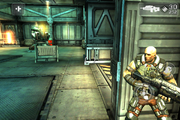 Plot
The game starts with a cutscene that introduces specialized bounty hunters called SHADOWGUNS.