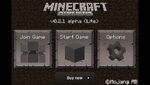 Minecraft: Pocket Edition Lite is the free version of Minecraft PE.
Gameplay
When creating a map, you choose between the two game modes Creative and Survival. In Creative mode, you can use the blocks in the game to build and create stuff. You can also fly in creative mode by double tapping the jump button. In Survival mode, you build shelter before nighttime to keep safe from the zombies, or you can go out and fight them.
All items and blocks
• Stone Pickaxe
• Stone Axe
• Stone Shovel
• Shears
• Ladder
• Torch
• Wooden Door
• Cobblestone
• Wooden Planks
• Bricks
• Dirt
• Sandstone
• Gravel
• Stone
• Sand
• Black Wool
• Red Wool
• Green Wool
• Brown Wool
• Blue Wool
• Purple Wool
• Light Blue Wool
• Light Grey Wool
• Glass
• Stone Stairs
• Bookshelf
• Flower
• Cactus
Trivia
• As of June 2013, Minecraft PE lite is at version 0.2.1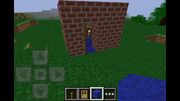 Ad blocker interference detected!
Wikia is a free-to-use site that makes money from advertising. We have a modified experience for viewers using ad blockers

Wikia is not accessible if you've made further modifications. Remove the custom ad blocker rule(s) and the page will load as expected.