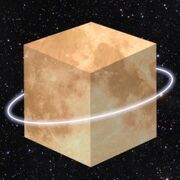 Created by fans of the famous indie hit Minecraft,
Lunacraft
welcomes you to a future where you can explore and colonize a new alien moon every time you play.
Lunacraft is a moon-themed Minecraft-type game for the iOS. It includes many features that other iOS games of this genre do not have, such as crafting, mobs, assembling devices and collecting different materials. It is available on the app store for free. An ad-free version is available for $2.99. An in-game crafting guide can be purchased for $0.99 more. Lunacraft is developed by mode of expression, LLC.
Originally named 'Mooncraft', it was renamed to Lunacraft in a 2011 update.
External Links