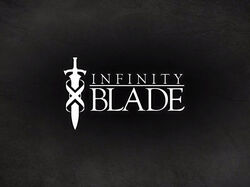 Infinity Blade is a series of games by Chair Games and Epic Games. The original game was the first ever game on a handheld device to use the Unreal Engine. The main protagonist of the series, Siris, is on a quest to destroy the Deathless Kings and restore order. The series has so far recieved positive reviews from review websites (such as Pocket Gamer and SlidetoPlay) and both have an average 4 1/2 star rating on iTunes. The original game was released on December 9th 2010 and was not expected to be able to run on iOS.

Series
Infinity Blade Series
Game
Release Date
Rating
Infinity Blade
December 9th 2010
Pocket Gamer - 9/10
SlidetoPlay - 4/4 "Must Have"
Infinity Blade II
November 30th 2011
Pocket Gamer - 8/10
SlidetoPlay - 4/4 "Must Have"
Ad blocker interference detected!
Wikia is a free-to-use site that makes money from advertising. We have a modified experience for viewers using ad blockers

Wikia is not accessible if you've made further modifications. Remove the custom ad blocker rule(s) and the page will load as expected.