Dragon Runaway is an adventurous yet challenging game that happens in Jurassic Park era, that the game players should help the little dragon escape from meteor hitting with a bit of help from the hills along the journey, and it is free available for iPhone, iPad and iPod Touch entertainment.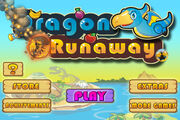 The little dragon's adventure begins as a meteor from the outer space is on its track of hitting the earth, the little dragon who used to live his carefree life now has to run for survival. Through endless deserts, dangerous jungles, tropical islands, and bleak snow mountains, with a bit of help from the hills along the journey, the little tough creature uses his teeny tiny wings to fly away from this imminent danger believing the hope of finding a new home. Is he gonna make it? It is totally up to game players.
Device Requirements:
- Compatible with iPhone, iPod touch, and iPad.
- Requires iOS 4.1 or later.
- Size: 16.0 MB
Ad blocker interference detected!
Wikia is a free-to-use site that makes money from advertising. We have a modified experience for viewers using ad blockers

Wikia is not accessible if you've made further modifications. Remove the custom ad blocker rule(s) and the page will load as expected.