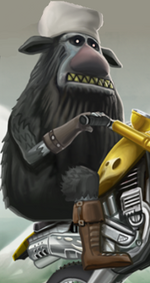 Domovoi is a playable character in Bike Baron. Although being a long appearing character throughout updates of the game, he was only named in version 1.3. He appears on the main screen where the player can tap him to switch to a seperate campaign, where the levels have a lot more checkpoints than usual, thus making him the 'easy' mode in the game. Before the update, he was only playable by completing every level in a set (easy, medium or hard) with three stars. He also appears as a chef aside from racing.
Appearances
Ad blocker interference detected!
Wikia is a free-to-use site that makes money from advertising. We have a modified experience for viewers using ad blockers

Wikia is not accessible if you've made further modifications. Remove the custom ad blocker rule(s) and the page will load as expected.